Made in the USA, all Hardy HIBSX Bench Scales come standard in 12"x12" and 24" x 24" sizes, ranging in capacity from 10 lbs – 1300 lbs (5 kg to 590 kg).
Hardy HIBSX Bench Scales come with RoHS compliant 304SS stainless steel hardware, frames and platters. Users of the 12 x 12-inch scale may choose between stainless steel hermetically sealed, IP68/69K, C2® load cells OR aluminum, environmentally sealed, IP67 C2® load cells, depending on their application. The low-profile 24 x 24-inch scales use four 304SS stainless steel (4) HIPBZ C2® load cells with an integrated junction box.
With all stainless steel construction and hazardous FM approval, the 12 x 12-inch HIBSX with a stainless steel load cell is built for wash down applications and hazardous environments. With an IP67 aluminum load cell, the HIBSX is designed for use in dry and dusty hazardous environments. The 24 x 24-inch features IP67-rated stainless steel, environmentally potted load cells that are suitable for light washdown. Each load cell is also FM approved and has a +/- 0.02% accuracy specification.
Hardy has built its C2® weight-free calibration technology into every scale, delivering the lowest total cost of ownership on the market. C2 calibration saves time during commissioning and replacement, removes personnel from processing areas, and keeps your process cleaner by eliminating the need for potentially contaminated test weights.
To ensure durability in industrial applications, Hardy has performed corner, overload and cycle testing to over 8 million cycles. In addition, Hardy performed overload testing of more than 200% rated output. The HISBX series is ideal for manual checkweighing, piece portioning, counting, and adding minor ingredients (to a process or a batch).
Overload testing was performed on the HIBSX 24 x 24-inch with a capacity of 1300 lbs using three 1,000 lbs test weights. The scale was operational and tested accurate with test weights even after this grueling test.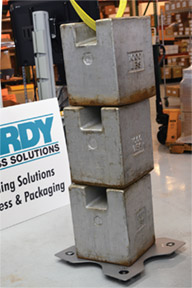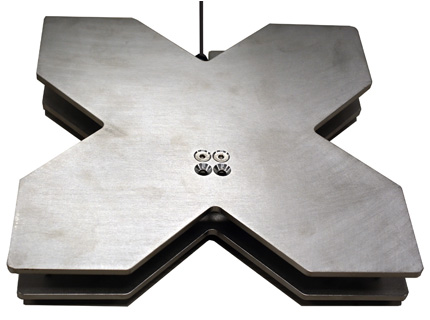 The HIBSX 12 x 12 inch bench scale is designed with a durable double-platter all stainless-steel 'X' construction with a single load cell
Common Specifications to All Scales
• 304 Stainless Steel frame and platter (all models)
• Size: 12" x 12" or 24" x 24"
• Load Cell Error Specification < +/- 0.02%
• Weight: 12-in 22 lbs (9.98 kg) 24-in 48.8 lbs (22 kg)
• Cable Platform to Instrument: 12 x 12 - 10 ft (SS Models)
or 6.5 ft. (AL Models)
•24 x 24 - 15 ft (4.6 m)
Deck Height
•12" x 12": SS: 2.95" (75 mm) adjustible
•12" x 12": AL: 2.02" (51.3 mm) adjustible
•24 x 24": PBZ 2.25" (57.2 mm) adjustable
Capacity Range
• 12x12" SS Versions: 10 lbs to 165 lbs (5 to 75 kg)
• 12x12" AL Versions: 10 lbs to 100 lbs (5 to 45 kg)
• 24 x 24" PBZ Versions: 150 to 1300 lbs (68-590 kg)
Rated Output
• Overload 12 x 12": 200% R.O. with Stainless Steel HISP6 or
150% R.O. with Aluminum HISPA22
• Overload 24 x 24-inch: 200% R.O. with Stainless Steel HIPBZ load cells (4)
• Corner loading: 100% R.O. (all scales)

Load Sensors
• 12x12" SS Versions: C2® stainless steel, hermetically sealed IP68/IP69K
• 12x12" AL Versions: C2® aluminum, environmentally potted, IP67 Resolution
• 24 x 24 HIPBZ (4): C2® 304SS, environmentally potted, IP67, with integrated HI6011 Junction Box

Warranty
• Two-year limited warranty
Approvals
• 12 x 12" with HISP6: FM IS Hazardous Class I, Div 1 Load Cells
• RoHS3 and REACH
Shipping Weight
• 12" x 12": 22 lbs (9.98 kg)
Load Cell Specifications
Load Cell Specifications HISP6 HISPA22 HIPBZ
Rated Output (ES) 2±0.10mV/V 2±10% mV/V 2±10% mV/V
Non-Linearity <±0.0166 % R.O. <±0.0166 % R.O. <±0.0166 % R.O.
Hysteresis <±0.0166 % R.O. <±0.0166 % R.O. <±0.0166 % R.O.
Zero Balance <±5.0 % R.O. <±5.0 % R.O. <±5.0 % R.O.
Combined Error <±0.02 % R.O. <±0.02 % R.O. <±0.02 % R.O.
Creep @ 30 Min. <±0.0166 % R.O. <±0.0166 % R.O. <±0.0166 % R.O.
Temp Effect Output <±0.0112 % R.O./C <±0.0233 % R.O./C <±0.0233 % R.O./C
Temp Effect Sensitivity <±0.010 % R.O./C <±0.010 % R.O./C <±0.010 % R.O./C
Input Resistance 1100 ± 50 ohm 413 ± 20 ohm 1100 ± 50 ohm
Output Resistance 960 ± 50 ohm 350 ± 25 ohm 1000 ± 2 ohm
Insulation Resistance ≥5000 Mohm ≥5000 Mohm ≥5000 Mohm
Excitation 5 - 15 vdc 5 - 15 vdc 5 - 15 vdc
Safe Load Limit 200 % Emax 150 % Emax 200% Emax
Safe Side Load 100 % Emax 100 % Emax 100% Emax
Hazardous FM IS, Class1, Div 1 N/A N/A
Approvals IP68/IP69K IP67 IP67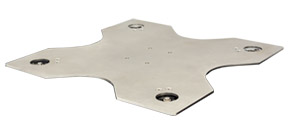 The HIBSX 24 x 24 inch bench scale is designed with an extremely durable all stainless-steel 'X' construction with four planer beam load cells and an integrated HI6011 junction box. With a single platter, this provides an extremely low-profile form factor.
The Hardy Process Toolbox is a set of productivity tools that support industrial weighing functions. Each tool saves time, increases accuracy, improves efficiency, or reduces risk in process weighing applications, including WAVERSAVER® to eliminate vibration, C2® electronic calibration, and Integrated Technician® to name just a few.
The Hardy Lift Deck Floor Scales feature the following Toolbox technologies:
C2® Electronic Calibration
The Hardy C2® (or eCAL as it is known in China) core feature provides quick and easy electronic calibration of a weighing system without the need for heavy test weights. Unlike calibration with test weights, all the live weight on the scale does not have to be removed and heavy test weights do not have to be repeatedly put on and off the scale. As soon as your scale system is installed, it can be C2 or eCAL calibrated, and proper scale installation verified. The result is a calibration that is easier, quicker, safer, and typically more accurate.
Through the Hardy Weighing Instrument, the Hardy HIBSX Bench Scales have access to the following additional technologies:
WAVERSAVER® Vibration Eliminator
Hardy's WAVERSAVER core technology eliminates the effects that surrounding vibration has on the scale weight signal, providing only true data for fast, accurate weight reading.
Embedded Web Server
Access your instrument from any computer browser, easing setup and making diagnostics fast and easy. Use the Embedded Web Server to set up all parameters from anywhere on the Ethernet network.
Secure Memory Module Stores Configuration Data
Hardy's Secure Memory Module (SMM) uses a standard SD card to automatically back up critical weighing system data, allowing you to transfer it to another like controller in a few minutes. You can also use the card to easily back up your controller data onto a PC.