New HI 6600 Series Modular Sensor System
The new HI 6600 series is a modular system of weight processors that deliver up to 30 channels of fast, stable, high-resolution weight readings to PLCs, PACs, and DSCs over a single fieldbus network connection.
Ideal for applications that require more than one channel of weight, such as inventory tank farms, batching systems, and multi-head filling machinery; each channel of the HI 6600 processes signals from up to four connected load cells and then outputs the entire system's weight data over Ethernet TCP/IP, Modbus RTU, Modbus TCP and either EtherNet/IP or Profibus-DP, depending on the Hardy Gateway Module.
Book a One-on-One Virtual Demo to See the HI 6600 in action!
Take the HI6600 for a Test Drive
SOLID PERFORMANCE
The HI 6600 enhances the productivity of manufacturing systems by digitally suppressing noise and dramatically reducing scale settling time. Even in noisy environments with excessive amounts of mechanical vibration, the HI 6600 provides a steady 1:10:000 resolution in oz, lb, ton, g, and kg with 110 updates per second over its variety of communications protocols.
EASY INSTALLATION
Just snap the number of weight channels you need onto a DIN rail, cable the units together to the Gateway Module using standard Cat5e cable, connect sensors, power up and press DISCOVER. The system will automatically identify all the modules connected together and make them addressable for set-up and calibration through the PLC, embedded Webserver, or optional display. A Rockwell EDS_AOP simplifies integration using RSLogix.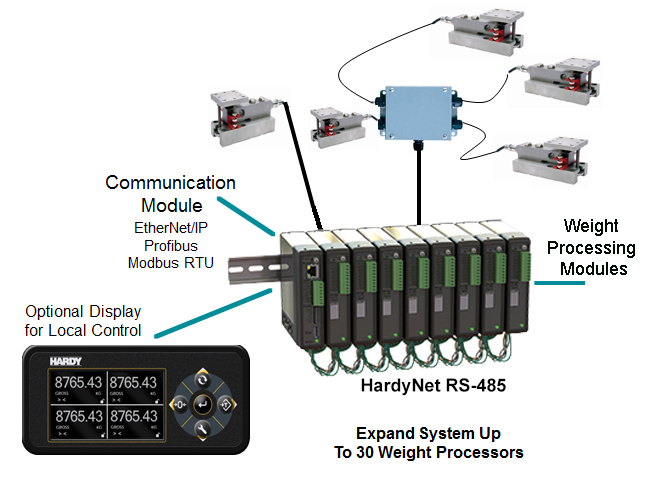 SIMPLE SET-UP & CALIBRATION
The embedded webserver enables access to setup and calibration from anywhere on your network. An optional display adds front panel keys, simple menus, and help text to make local control elementary. Use Hardy's exclusive C2® for automatic system calibration to save hours in commissioning and routine maintenance.
QUICK MAINTENANCE & DIAGNOSTICS
With INTEGRATED TECHNICIAN®, maintain and troubleshoot the weighing system from anywhere in the world or use Hardy's intuitive local display that supports multiple languages. Store all the system parameters on a USB, clone settings between channels, and restore settings with the press of a button. Quick-disconnects on all wiring makes hot swapping damaged channels a snap!
OPTIONAL DISPLAY
Hardy's big, bright display allows local set-up, calibration, and troubleshooting of the weight system without the need to access parameters via a PC, PAC, or PLC. Basic monitoring and maintenance can be done by anyone through its IP66 rated keypad. The display can show weight from up to 28 connected weight modules, displaying up to 4 channels simultaneously. Name the weight channels for easy identification and arrange them to show in any order.
ULTRA LOW POWER CONSUMPTION
At just 1.72 watts of power per channel and 3.9 watts per Gateway Module, eliminate the cost of cooling in the control cabinet and create high-density cabinet designs to save space and money.
VIBRATION IMMUNITY
Hardy's WAVERSAVER® suppresses vibration and mechanical noise, dramatically reducing scale settling time and increasing the speed of stable weight readings.
The HI 6600 Series is available to order now! Contact your Hardy Sales Engineer or the Hardy Service Center today! 800-821-5831 or 858-278-2900. Email us at hardyinfo@hardysolutions.com
MODEL NUMBERS
HI 6600 SERIES
HI6610 Weight Processing Module, no display
HI6600-EIP HardyNet Gateway Module - EtherNet/IP
HI6600-DP HardyNet Gateway Module - Profibus-DP
HI6110 Optional Multi-Channel Display
Weight Processing Module (WPM)
Resolution
Stable processed weight 1:10,000
Maximum displayed resolution: 1:999,999
Internal resolution 1:8,388,608
Update Rate
Processed weight, display, comm: 110 times per sec.
Unprocessed weight (A/D conversion): 4800 Hz
Modes
Units of Measure
Ounce, Pound, Ton, Gram, Kg, Metric Ton
Weight Processing
WAVERSAVER®: 0.25 Hz to 7.5 Hz
Averaging:1 to 255 User-selectable in single increments
Calibration Methods
C2® calibration without test weights
Traditional calibration with test weights
Power
HI 6610: 24 VDC, Class 2 Source, max 1.72 Watts
Excitation
Number of Load Cells
Up to 4 at 350 Ω per weight processing module
Hardy Gateway Module (HGM)
Expansion
Up to 28 weight processing modules per system*
Maximum System Span: 500 ft (150 m)*
*May require external 24VDC power. See User Guide for details.
HGM Available Protocols:
EtherNet/IP (-EIP models)
PROFIBUS-DP (-DP models)
Ethernet TCP/IP (Embedded Webserver) -- all models
Modbus RTU all models
Communication Interface:
Terminal (serial), RJ-45
USB setup and configuration saving
Power:
HI 6600: 12-24 VDC, Class 2 Source, max 3.9 Watts
Common Specifications
Dimensions
4.55" D x 4.75"H x 1.25" W
Housing
High Strength ABS-Polycarbonate Blend
Mounting
DIN Rail with integrated clip
Interconnect Cable
Temperature
-10°C to +60°C (14° F to 160°F)
Temperature: • -10°C to +60°C (14° F to 160°F)
Humidity
Environmental
Certifications
Safety: UL & CUL, CE
EtherNet/IP ODVA Certification Level 3
Profibus-DP by Profibus.org
RoHS3 & REACH
Warranty
Two-year warranty against defects in workmanship
Optional Multi-channel Display
80:1 contrast ratio with 4.3" effective viewing area
140° viewing angle •
Control, configure, and view all WPMs on one front panel
Display keypad: IP66 5-Button Tactile
Display bezel rated to NEMA 4 when panel-mounted in a NEMA 4 or 4X enclosure
Dimensions: 0.75" D x 3.25"H x 7.5" W
* Specific configuration information is available in the HI 6600 User's Guide
The Hardy Process Toolbox is a set of productivity tools that support industrial weighing functions. Each tool saves time, increases accuracy, improves efficiency, or reduces risk in process weighing applications, including WAVERSAVER® to eliminate vibration, C2® electronic calibration, and Integrated Technician® to name just a few.
The Hardy Lift Deck Floor Scales feature the following Toolbox technologies:
C2® Electronic Calibration
The Hardy C2® (or eCAL as it is known in China) core feature provides quick and easy electronic calibration of a weighing system without the need for heavy test weights. Unlike calibration with test weights, all the live weight on the scale does not have to be removed and heavy test weights do not have to be repeatedly put on and off the scale. As soon as your scale system is installed, it can be C2 or eCAL calibrated, and proper scale installation verified. The result is a calibration that is easier, quicker, safer, and typically more accurate.
INTEGRATED TECHNICIAN® Operator Diagnostics
Hardy's INTEGRATED TECHNICIAN (IT) core feature helps you troubleshoot your weighing system and diagnose problems from the front of the instrument or via the PLC. These tests display system weights, voltages, and pass/fail displays to help isolate a problem to the instrument, cabling, or sensors, helping to reduce maintenance costs.
Through the Hardy Weighing Instrument, the Hardy Floor Scales have access to the following additional technologies.
WAVERSAVER® Vibration Eliminator
Hardy's WAVERSAVER core technology eliminates the effects that surrounding vibration has on the scale weight signal, providing only true data for fast, accurate weight reading.
Embedded Web Server
Access your instrument from any computer browser, easing setup and making diagnostics fast and easy. Use the Embedded Web Server to set up all parameters from anywhere on the Ethernet network.
Secure Memory Module Stores Configuration Data
Hardy's Secure Memory Module (SMM) uses a standard SD card to automatically back up critical weighing system data, allowing you to transfer it to another like controller in a few minutes. You can also use the card to easily back up your controller data onto a PC.